Merdeka.com – PKK cadres Banyuwangi show creativity in processing food. Various foods and snacks with basic ingredients derived from non-rice food plants are presented attractively in the Non-Rice Food Festival (Fepanora).
This festival was held at Blambangan Park, Banyuwangi, Saturday (17/9/2022). Various processed healthy foods derived from local food plants were displayed by PKK cadres from 25 sub-districts in Banyuwangi.
For example, Nasi Sinaga (food made from cassava and dragon fruit), steamed taro corn, jalut rice (pulut corn), purple telo (yam) balls filled with bamboo shoots, cassava nori rolls, rice cakes, to cassava shrimp sushi.
Various Foods Served Attractively at the Banyuwangi Non-Rice Food Festival©2022 Merdeka.com
There is also a variety of delicious side dishes to complement the lunch dish. There is aniku (pickled yellow tilapia), grilled egg tempeh (pelor), folded fish eggplant (talipat), gecok ares bananas, noni leaf sushi, sakemoz (sabrang, mozzarella cheese, eggs), to catfish cordon bleu.
"Through this festival, we want to invite the public about the importance of using non-rice food. Banyuwangi has a variety of agricultural products. Carbohydrate needs are not only obtained from rice and flour. But can be from corn, tubers, vegetables and others. To be more interesting , then we have to be creative in processing it," said Assistant for Government and People's Welfare, Arief Setiawan when opening the festival.
The festival participants they process food ingredients. Such as cassava, corn, taro, sweet potato, potato, and canna. There are also dragon fruit, oranges, bananas, coconuts and lemons. While vegetables are also widely used ranging from papaya leaves, cassava leaves, mustard leaves, kecombrang, eggplant, and others.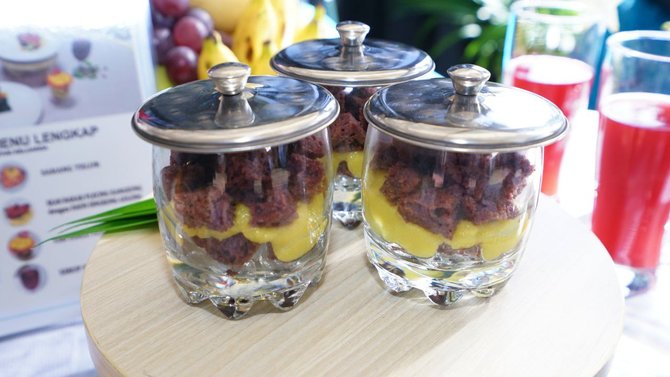 Various Foods Served Attractively at the Banyuwangi Non-Rice Food Festival©2022 Merdeka.com
Acting Head of the Agriculture and Food Service, M. Khoiri added, this event will further increase the benefits of non-rice and wheat food. This, he said, was a campaign to the public that the main food ingredient was not just rice.
"There are still many crops that can be processed. Make people aware that nutrition can come from various other ingredients, so don't just stick to rice. With good intake of various foodstuffs, God willing, nutritional adequacy can be fulfilled. This also avoids the risk of stunting," said Khoiri .
In addition to competing for non-rice food creations, this activity was also filled with the launching of non-rice food e-books. The e-book can be accessed on the website of the Department of Agriculture and Food. "In it at the same time users can calculate the fulfillment of the required nutrition," said Khoiri.
Various Foods Served Attractively at the Banyuwangi Non-Rice Food Festival©2022 Merdeka.com
The festival was warmly welcomed by PKK cadres. According to them, the festival which is held regularly every year triggers them to continue to be creative in processing food ingredients that are around them.
"We make monyong taro. Steamed taro is made like a burger, wrapped in banana leaves and then grilled. The side dish is geplek eel, seasoned with spices and added to kecombrang. The snack is milk and corn flour. It tastes good," said Asmaul Husan, a PKK cadre from Licin District .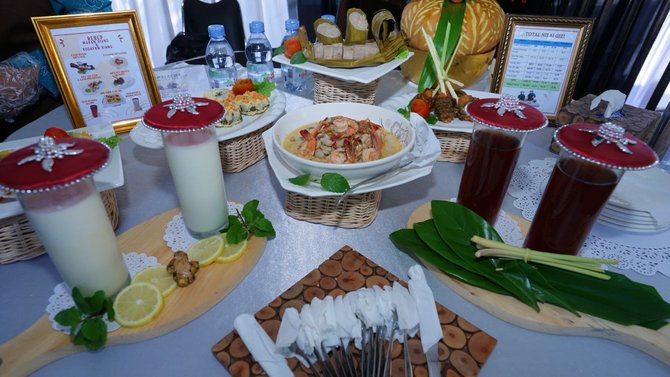 Various Foods Served Attractive at the Banyuwangi Non-Rice Food Festival©2022 Merdeka.com
On that occasion, awards were given to 7 hotels, 3 restaurants and 6 MSMEs that consistently used non-rice food menus in their menu choices.
Awards were also given to the winners of the non-rice healthy food creation competition. 1st place was won by TP PKK, Licin District. 2nd Place TP PKK Kabat District. 3rd Place Kalipuro District.
[hhw]