Suara.com – PT Utomo International or Utomocorp collaborate with custom workshop Smoked Garage bring bicycle electric motor based Niu Gova-03 at the Perikliindo Electric Vehicle Show (PEVS) 2022 exhibition at JIExpo Kemayoran, Jakarta, Tuesday.
The custom electric scooter, which received a special makeover with two styles, namely C.Racer or Cafe Racer and Adventure, is sold in limited quantities of 100 units each and can be ordered during the exhibition. PEVS 2022 take place.
"We collaborated with Smoked Garage to make the Niu Gova-03 with a special design according to the tastes of today's youth market. The C.Racer and Adventure styles emerged, both designs were made only 100 units and will be marketed globally, "said Utomocorp CEO Denny Utomo at the exhibition, Tuesday (26/7/2022).
Gova-03 C.Racer features a thick racing style to show the figure of an electric scooter that is ready to be accelerated through the design of the handlebars, seats, and tires.
Meanwhile, GOVA-03 Adventure describes the Niu as a tough electric scooter to be used on adventures and expresses the user's lifestyle.
These two units are sold at a price of IDR 39.9 million for the C.Racer type and IDR 43 million for the Adventure.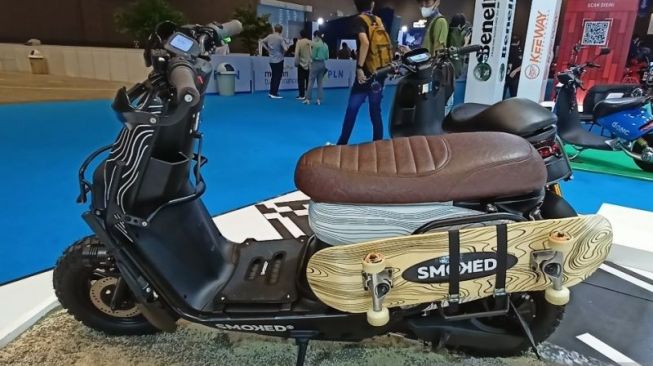 Meanwhile, Nicko Eigert from Smoked Garage said that the presence of the custom electric motorcycle is a form of creativity for business people in the automotive industry.
He said the collaboration of Smoked Garage and Niu was here to showcase a new form of electric motorcycle without losing the element of customization.
"With the era of electrification, of course, there are many innovations and new designs that fill the ranks of the automotive industry," said Nicko.
Niu Gova-03 is the latest type of electric-based Niu Mobility with a modern and attractive design. This motorbike also has two modes, namely sport and tour modes.
Also Read:
MAB Prepares Electric Motorcycles Under Rp 20 Million
Niu Gova-03 has a maximum speed of 60 km / h with a distance of about 55-75 km. For battery charging time it takes about seven hours.
The Niu Gova-03 weighs around 269 kg with a choice of seats for 1-2 people. For the battery used in this motor, it is an 18650 lithium battery with a large voltage of 60 V and a capacity of 40 Ah. The weight of the battery on this motorbike is around 11 kg and has a USB plug.
In addition to presenting a custom Niu Gova-03 motorcycle, Booth Utomocorp also featured a line-up of other electric motorcycle products, consisting of Energica Ego+, Niu Gova 03 and Gova NQi Sport.
Utomocorp is also known to oversee several other automotive brands such as Italjet, Royal Alloy, and Energica. [Antara]