Merdeka.com – As a tangible form of empowerment and encouraging sustainable economic growth in rural areas, BRI has again implemented the BRILian Village program through the Kick Off New BRILian Village 2022 Batch 3 in Jakarta (26/09).
Director of Micro Business BRI Supari said the company has a focus on the Micro, Small and Medium Enterprises (MSME) segment. Therefore, the role of BRI is not limited to the role of financial intermediary, but also empowerment, both for individual business actors and village institutions.
"Regional empowerment needs to be considered considering that the development of villages in Indonesia is relatively uneven and is a challenge for us all. According to the 2021 Developing Village Index (IDM), out of a total of 73,814 villages in Indonesia, only about 30% of villages are in the advanced and independent category. this is a challenge for us together. Based on these conditions, since 2020 BRI has been present to participate in developing villages through the BRILian Village program, "said Supari.
BRILian Village©2022 Merdeka.com
Supari further explained that BRILian Village is an incubation program that aims to produce role models in village development. Of course, through the implementation of superior village leadership practices and the spirit of collaboration to optimize village potential based on the Sustainable Development Goals (SDG's).
Villages participating in this program are expected to be a source of development inspiration that can be replicated to other villages. Because the BRILian Village program focuses on developing 4 important aspects in the village. First, BUMDES as the motor of the village economy. Second, digitization, implementation of digital products and activities in the village.
Third, sustainability, resilience and sustainability in developing villages. And lastly, creative in creating innovations in developing the potential of the village. Through this program implemented in collaboration with Diponegoro University, the objects of empowerment include village officials (village heads), Bumdes management, Village Consultative Body, village business actors, and Rural Area Superior Products (Prukades) activists.
BRILian Village©2022 Merdeka.com
"We hope that this very useful activity can be followed by all key elements of economic growth in the village. Because BRILian Village is actually a village full of achievements and inspiration, a village that is responsive, resilient and innovative during the pandemic and post-pandemic like now, and deserves to be a model for other villages," continued Supari.
Supari also explained that this program also carried out strengthening the village economic ecosystem which was supported by the program for Strengthening Micro Business Groups (Clusters) with the name My Life Cluster. Where BRI identifies the need for empowerment, both business training and infrastructure assistance provided selectively.
BRI also supports the village market, where the company initiated the formation of the Pasar.id platform. That is a platform that connects market traders and buyers online as an adaptation of the challenges of business behavior in the pandemic and even post-pandemic times.
"We also developed a linkumkm.id empowerment platform to encourage and facilitate MSMEs to advance to class. Also of course BRI service products that can be utilized by villages and BUMDes such as BRILink Agents, Strawberries, QRIS and other products. Hopefully with the implementation of the 2022 BRILian Village program, BRI can make a real and positive contribution to the economic revival of rural communities," he said optimistically.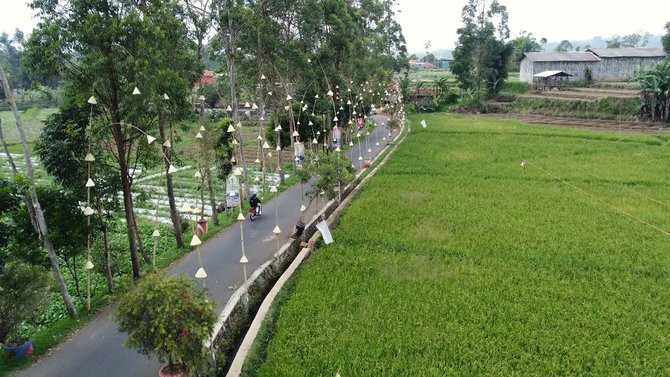 BRILian Village©2022 Merdeka.com
The BRILian Village program this time is the 6th time being run by BRI. This program started in 2020 by selecting 531 tough and innovative village proposals. Then choose 125 villages from various regions in Indonesia and screen up to 10 villages as winners of BRILian Village 2020. Meanwhile, in 2021, BRI has selected 2,062 villages as candidates for BRILian Village through 3 (three) batches.
This year, BRI continues the BRILian Village Program with a target of 1000 participating villages and will be divided into 3 batches. The BRILian 2022 Village program Batch 1 has been inaugurated in June 2022 and Batch 2 has been inaugurated in September 2022 and the 40 best villages have been selected including the 10 best villages in each Batch which will be provided with direct assistance (Onsite Visit) by BRI and the University Diponegoro.
Furthermore, the BRILian Village Program Year 2022 Batch 3 will be attended by 350 villages from all over Indonesia. From 2020 until now the BRILian Village program has been attended by 1,881 villages that are actively engaged in initiatives and are committed to progressing through the programs that have been planned.
[hhw]