womidea.com – National Rally and Ambassador of Mitsubishi Motors Indonesia, Rifat Sungkar share experiences when competing in Asia Cross Country Rally or AXCR 2022 (21-26/11/2022) with co-driver Chupong Chai Wan.
AXCR 2022 itself is a cross-country and cross-country rally which is often referred to as "Asia's Dakar Rally". Crossing the 1,700 km long route of Thailand and Cambodia with six Special Stage (SS) challenges.
Mitsubishi Ralliart Team received full support from Mitsubishi Motors Corporation, and achieved success through driver Chayapon Yotha in first position, a total time of 8 hours 22:42 seconds. Meanwhile, Rifat Sungkar was 17:14 seconds adrift at the finish line in fifth place.
Compete together Mitsubishi Triton Ralliart in standard conditions with the starting number 118, Rifat Sungkar admires the profile of his ride and the exciting collaboration of the Mitsubishi Ralliart Team.
Also Read:
Mitsubishi Triton Ralliart Wins AXCR 2022, This is the Secret of the Team's Operations for Double Cabin
"On the first day, I caught the leading racer at kilometer 12, also at kilometer 25. But unfortunately, there was an incident with a flat tire, causing me to lose six minutes from him," continued the husband of the famous artist Sissy Priscillia.
Keeping the spirit positive, Rifat Sungkar, who is familiarly called Rifato, stated that the incident where the tire broke on his ride, which was included in the double cabin category, was purely unlucky.
In the condition of the car that was badly damaged in the tires as well shockbreaker, Mitsubishi Triton Ralliart rides by Rifat Sungkar and Chupong Chaiwan are still fairly reliable. The damage does not spread to other sectors such as the axle. This section is said to remain in a condition that is qualified to continue the fight.
"What's so great about it? That axle doesn't come off, even though the standard car specifications and shockbreakers have started to break down. Now, this is what I'm amazed at with the Mitsubishi Triton Ralliart. This car is sensational! he said proudly.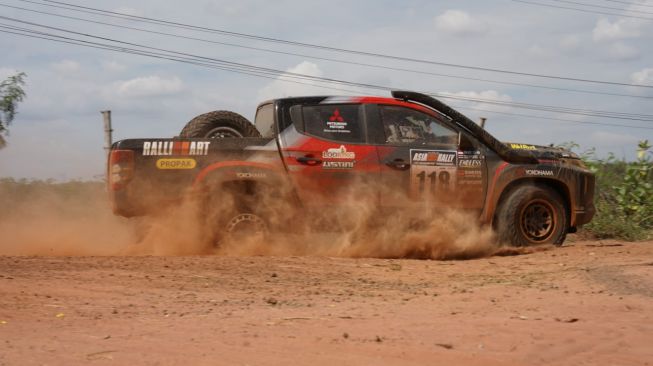 "The second, third, fourth and fifth day, I learned what roads in Thailand are like, and I finally got used to it. The key is to trust the co-driver. In a field situation that I don't know what it's like, my trust in him is really high," said Rifato about Chupong Chaiwan.
Also Read:
AXCR 2022 Champions, Chayapon Yotha and Peerapong Sombutwong Share the Duties of Handling the Mitsubishi Triton Ralliart on the Track
The struggle that was carried out by Rifat Sungkar was also quite impressive. The performance of the Mitsubishi Triton Ralliart is constantly steady and able to overcome extreme trajectories to the finish.
No less exciting, a replica of the Mitsubishi Triton Ralliart that fights in the AXCR 2022 has been on display at the Mitsubishi Motors headquarters in Tamachi, Tokyo, Japan since November 21.